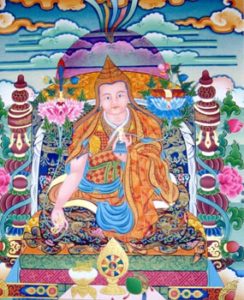 Jamgön Mipham Jamyang Namgyal Gyatso (1846–1912) was a great master of the Nyingma lineage of Tibetan Buddhism. He was born in 1846 in Eastern Tibet. He was recognized as an exceptional child from a young age, memorizing texts as early as age six. By the age of ten he had already composed many texts. At twelve, he entered the monastery as an ordinary monk of the Ogmin Ogyen Mindrolling lineage.
When he was fifteen or sixteen, after studying the very difficult Mindrolling system of chanting for only a few days and praying to Manjushri, he is said to have completely mastered it. In an 18-month retreat he accomplished the form of Manjushri known as 'Lion of Philosophers' using a liturgy composed by the fifteenth Karmapa Khakhyab Dorje. He made many medicinal pills blessed with Manjushri's mantra, and many miraculous signs were said to have been manifested.
Jamgön Mipham Jamyang Namgyal Gyatso received teachings from masters of all lineages His root gurus were Dza Patrul Rinpoche, from whom he received instruction on Shantideva's Bodhicharyavatara and Dzogchen and the renowned master Jamyang Khyentse Wangpo, from whom he received transmission of the orally transmitted or Kama and revealed or Terma lineages, and many other teachings. His other teachers included Jamgon Kongtrul Lodro Thaye; Dzogchen Khenpo Padma Vajra; Lab Kyabgon Wangchen Gyerab Dorje; Jubon Jigme Dorje; Bumsar Geshe Ngawang Jungne and Ngor Ponlop Jamyang Loter Wangpo.
Together with Rongzom Mahapandita, Gyalwa Longchenpa and Rigzin Jigme Lingpa, Mipham Rinpoche is considered to be one of the four "omnscient" masters of the Nyingma tradition. He composed and wrote many texts and commentaries which include his commentaries on the Mulamadhyamakakarika or Fundamental Stanzas on Wisdom by Nagarjuna; the Introduction to the Middle Way by Chandrakirti; the Quintessence of all Courses of Ultimate Wisdom (Jnanasarasamuccaya) by Aryadeva; commentaries on the major works of the Indian Buddhist logicians Dharmakirti and Dignaga; commentaries on the Five Treatises of Maitreya most notably, the Abhisamayalamkara; commentaries on several works of Vasubandhu including the Abhidharmakosha. He also wrote many commentaries on tantra texts which includes 'the Essence of Clear Light' of the Guhyagarbha Tantra.
Mipham  Rinpoche's chief students were Dodrub Rinpoche, Terton Sogyal, the Fifth Dzogchen Rinpoche, Gemang Kyab Gon, Khenpo Padmavajra, Katog Situ Rinpoche, Zhechen Rabjam, Gyaltsab Tulku, Palyul Gyaltrul, Karma Yangtrul, Palpung Situ Rinpoche, Ling Jetrung, Adzom Drukpa, Togdan Shakya Shri, Ngor Ponlob, and others. The great tulkus of Sechen, Dzogchen, Katog, Palyul, Palpung, Dege Gonchen, Repkong and others of all lineages became his disciples.
Finally, the great master Jamgön Mipham Jamyang Namgyal Gyatso passed away in 1912 amidst wondrous signs of realization