Our Founder & Spiritual Guide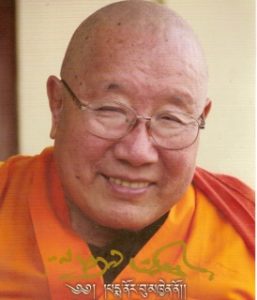 His Holiness Drubwang Pema Norbu (Penor) Rinpoche was the supreme head of Nyingma Tradition of Tibetan Buddhism and the 11th throne holder of the Palyul Lineage of Nyingma tradition. His Holiness is one of the foremost masters of Dzogchen (Ati-Yoga / Mahasandhi-Yoga) in our time.
His Holiness was recognized as the incarnation of Mahapandita Vimalamitra, the crown ornament of five hundred panditas, a Dzogchen master who travelled from India to Tibet in the 8th century. One of the two lineages of the heart essence (tib: Nyingthig) transmissions of Dzogchen from India to Tibet came through Mahapandita Vimalamitra. This is known as Vima Nyingthig. (The other lineage came through Guru Padmasambhava and is known as Khandro Nyingthig).
Under His Holiness's unwavering guidance, the Nyingma tradition established its largest centre of learning and practice in exile atBylakkuppe. Namdroling Monastery today has many thousands of monks and nuns. Ngagyur Nyingma University founded by him at Bylakkuppe is the largest centre of learning in exile for the Nyingma tradition where monks and nuns from even other traditions come for their study of advanced Buddhist philosophy. Namdroling Monastery also hosts a retreat centre where many practitioners undergo a three year retreat. He worked in person with brick and mortar for the construction of the monastery.
His Holiness relinquished the position of the supreme head of Nyingma tradition in 2001 to File photo: During the early days in exile, HH Penor Rinpoche helping out in bridge construction focus full time on the spiritual needs of his numerous disciples. He continued to lead the prayer ceremony of the Nyingma tradition every year under the Bodhi tree in Bodh Gaya till he entered maha-parinirvana.
His Holiness taught extensively around the globe. He reintroduced the core teachings of the Dzogchen path in India through the Namchoe cycle of teachings that he held. He gave instructions on the Namcho cycle consisting of Ngondro (preliminary), Tsa-lung (channels and winds), and Dzogchen every year during a month long retreat at Bylakkuppe. Lay people from around the globe join along with Monks and Nuns in receiving the teachings in the traditional way during these retreats. He also established a retreat centre in Upstate New York where the same teachings are given to a global gathering of lay practitioners. He deeply cared for people. Every day he used to meet large number of monks, nuns, lay practitioners and non-practitioners and listened to their problems and compassionately guided them on spiritual and worldly needs.
After a life-time of tireless compassionate activity to uphold the life-force of Buddha-dharma in its definitive meaning in preaching and practice, and having re-established the Nyingma tradition in exile with all its spiritual, monastic and philosophical backbones, on 27th March of 2009, His Holiness Penor Rinpoche entered the final meditation. He remained in meditation for seven days and entered Maha-parinirvana on the 3rd of April.
Many marvellous signs marked the maha-parinirvana of His Holiness. On the 21st of March 2009, there was an auspicious full-circle rainbow encircling the Golden Temple (the main temple), Namdroling, as soon as he came into the temple for the last time of his life. Video of the first rainbow on 21st March There was a pleasant scent of sandal wood filling the air when His Holiness remained in the final meditation (Thugdam). Amazing petal formations were observed after the overnight coagulation of butter lamps that made an offering to the holy body of His Holiness during the 49th day ceremony after Maha-parinirvana. Again, a full-circle rainbow encircled the Zangtopelri temple, Namdroling on the next day, where the holy body of His Holiness was moved in after the 49th day ceremony. Video of the second rainbow on 23rd May